This year for Thanksgiving we have teamed up with the talented Mary Chappelhow to create our new gift sets. Handmade ceramics with olives and oil from our groves, these are perfect for taking as host or hostess gifts; designed to be enjoyed straight away and treasured for long after.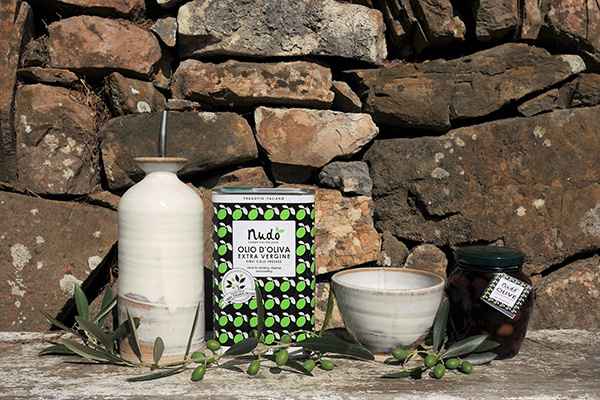 Mary creates unique and high quality ceramics on the potter's wheel in her studio, Interlude Ceramics, in the Lake District. She has a background filled with impressive experience and accolades, including a first class honors degree from the University of Cumbria, plus, the Guinness World Record for most pots thrown on the wheel in an hour!
But, what shines through even more is her creative talent. Mary is inspired by her surroundings and the textures and colours of the changing seasons, and her designs are a lovely combination of contemporary and rustic. With our similar values, we couldn't help but feel it was a perfect match with Nudo. We are very excited to be working with Mary to bring these three gift sets to you this year.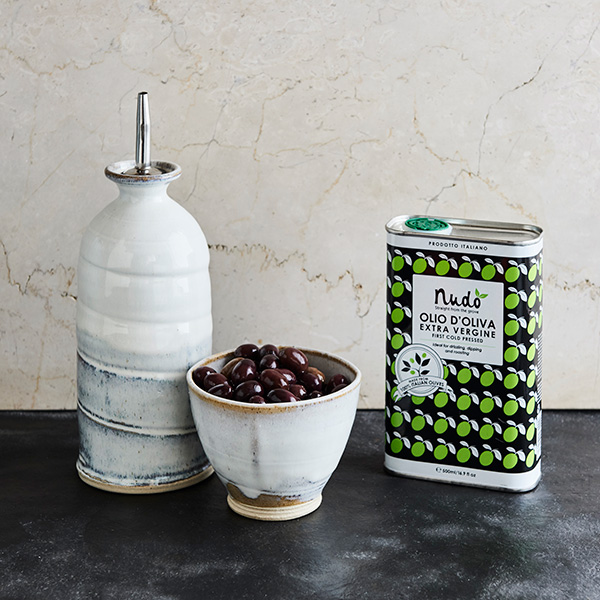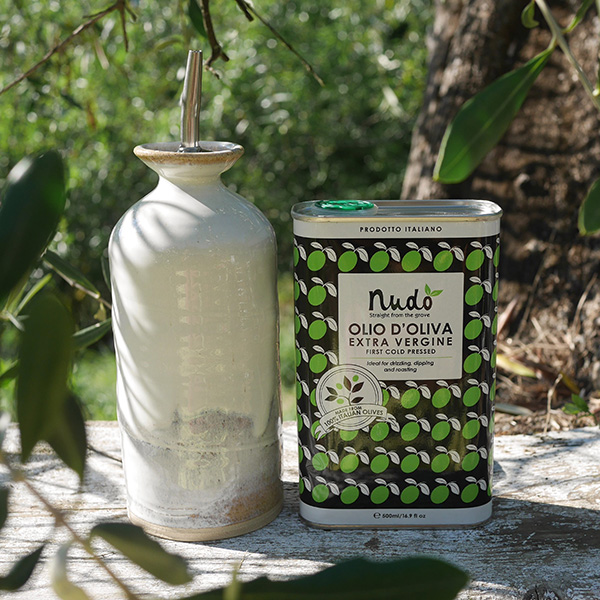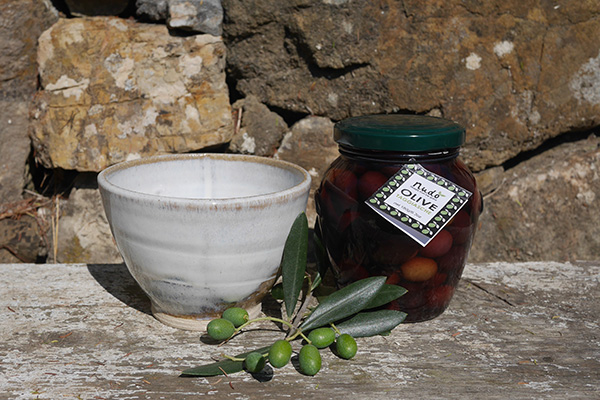 How are they made?
We went up to visit Mary in her studio to see her talent first hand and how it's all done. We watched her skilled work crafting the bottles as she talked us through the steps. We had a go ourselves, but decided it's probably best if we left this up to her...
Here's what we learnt:
Step 1: Throw the clay
As the name suggests, you literally throw the clay in this first step! You start the potter's wheel and then throw the lump of clay in the middle of the spinning disk, then with both hands steady it into the centre. Water is essential at this point to help guide it to the middle as the friction of dry hands or clay make this very difficult (we learnt this the hard way when we tried it with her!)
Step 2: Pull it into a cylinder
This is the start of how the vessel is created. Whether it is a pot, bowl, or bottle, anything made on a potter's wheel starts at this stage. The cylinder is the basic shape that will then be moulded into the form of the final piece.

From the lump of clay we started with, an indent is created in the centre with your thumb and the fingers pull up the sides. There is a real knack to it and if you don't have your clay centred, the off balance will cause it to collapse. Mary is a pro at this, and fun fact: she has a record for the most pots thrown on a wheel in an hour!

Step 3: Create your shape
This is where the skill and creative talent really come into play on the wheel. The cylindrical shape is pulled and pushed into the final creation. We watched as Mary guided the clay with ease to form our bottles, showing us an example of how much of a master in her art she is.

As she finished shaping each bottle, she casually puts in the finishing touch; a subtle spiral up the bottle giving just a hint of extra texture. This extra detail is like Mary's little signature, giving a unique and varying flare to each creation.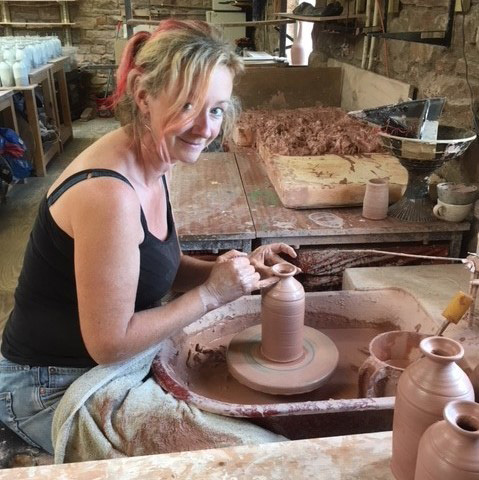 Step 4. the finishing touches
When each bottle is finished they are carefully removed from the wheel and placed to dry. The clay must dry out for several days to remove all the moisture before it is then fired. If it isn't dried properly it may crack in the kiln and all that beautiful wheel work is gone to waste. As these bottles are handmade on the wheel, they all have a beautifully subtle variance in their shape showing this personal touch. This comes through even more in the next step when they are glazed. The bottles are dipped and the glaze drips a different way each time. The bottle you gift will be one of a kind.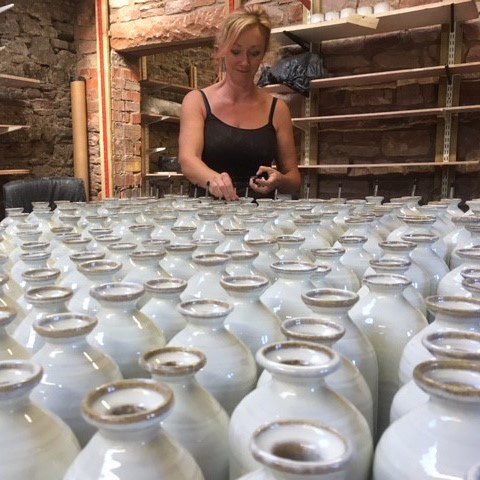 Make your gift the centre of the table
We have created gift sets from Mary's beautiful work ready for you to take for Thanksgiving.
For a small token of thanks, take them an Aperitivo of our Ligurian Taggiasche olives with the hand thrown and glazed ramekin to enjoy them in. We have also paired the bottle above, with our Nudo extra virgin olive oil in the Olio set, for a thoughtful gift of a beautiful piece to use every day. Or, if you want to have your gift centre table, gift all together in the A Tavola set with Mary's paired handmade bottle and ramekin along with Nudo's fresh extra virgin olive oil, and the Liguria Taggiasche olives.