Adopt an Olive Tree to support small-scale, sustainable olive farming in Italy and receive fresh extra virgin olive oil from the annual harvest, straight from the groves.

Nudo Adopt is a collaboration of Italian, family run artisanal groves which produce premium extra virgin olive oil made using authentic and sustainable methods. When you gift an adoption of an olive tree through Nudo you are helping these farmers share their extra virgin olive oil around the world, as well as protecting their local communities and land from intensive and destructive modern farming.
AN EXTRA SPECIAL OLIVE OIL SUBSCRIPTION
Your own piece of Italy
100% Italian extra virgin olive oil to your door
Support a small-scale, sustainable olive grove in Italy
20% off in the shop as an olive tree parent 
Visit your tree in the Italian olive groves
Cancel or pause anytime
THE OLIVE GROVES WE SUPPORT
All Nudo Adopt's olive farmers run small-scale groves in Italy and share our core values of sustainable farming methods. 
Select an olive grove to find out more & see the adoptions available
Aleandri's organically run olive grove is situated near Offida, Le Marche.
Farmer: Tiziano
Located in Liguria, Bestagno is Nudo Adopt's own grove.
Farmer: Katharine & Toby
This organic grove is situated just outside Alcamo, on the Trapanese coast of Sicily.
Farmer: Saverio
This organic grove is high up in the hinterland next to the villiage of Fico.
Farmer: Nicola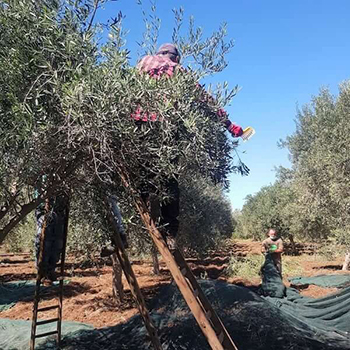 This Sicilian grove lies halfway between the Ionian sea and the Iblean mountains, near the historic city of Syracuse.
Farmer: Francesca
This organically farmed and family run grove is located in the beautiful Val di Noto in the south east of Sicily.
Farmer: Agnese
What is an Ongoing Adoption?
When you adopt a tree for yourself your adoption is ongoing until choose to end it. You will receive your deliveries of 3 x 500ml/16.9floz tins of extra virgin olive oil every 3 months with a Completo ongoing adoption and 6 months with a Duo ongoing adoption. When you adopt an olive tree with Nudo, you are personally supporting a small-scale, sustainable Italian grove and you will receive updates about your tree, grove, and olive farmer regularly through the year.
Each delivery you will receive 3 x 500ml/16.9floz tins of extra virgin olive oil.
How does the ongoing payment work?
When you start an ongoing adoption the initial payment is for your first delivery, then the payment for each delivery goes out on the 1st of the month of your delivery. e.g. 1st April for the late April delivery from your tree. So, any changes to your account such as address, skipping a delivery, credit card details, must be made before the 1st of the month of your delivery.

Delivery and payment months
Duo, bi-annual deliveries: April and October
Completo, quarterly deliveries: January, April, July, and October.
In the increasingly industrial environment of extra virgin olive oil production, the Nudo olive tree adoption program empowers farmers to continue their sustainable low impact farming methods protecting their trees and land for future generations