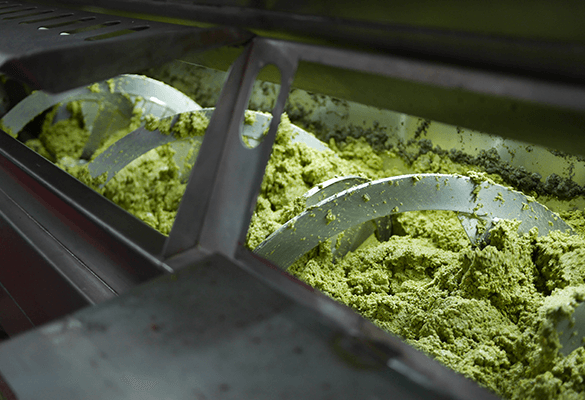 The lack of clarity surrounding our favourite kitchen commodity can easily leave consumers confused by all the definitions, labels and misleading descriptions when trying to buy olive oil.
Let's go back to basics, using the International Olive Councils legal definitions, we want to help to explain the differences and answer the question; is first cold pressed superior or is it just marketing jargon?
EXTRA VIRGIN OLIVE OIL
olio di oliva extra vergine
Extra virgin olive oil is the highest quality and purest olive oil that you can get. It is made without the use of heat or chemicals and must meet criteria regarding the acidity of the oil. The content of oleic acid (an omega 9 fatty acid) must be below 0.8%. Pure, unadulterated oil.
May also be referred to as: cold-pressed, first cold-pressed, EVOO
VIRGIN OLIVE OIL
olio di oliva vergine
Virgin olive oil is like Extra Virgin in that the process to obtain the oil is the same. No heat or chemical alteration can be used in the process; however, the acidity of virgin oil can be significantly higher (2%). This results in a less desirable flavour profile in comparison to the superior extra virgin olive oil.
May also be referred to as: pure olive oil.
OLIVE OIL
olio di oliva
Olive oil is a broad term used to oil extracted from the fruit of an olive tree. This is what you'll find on the shelves in the supermarket and is a blend of refined olive oil (see below) with a percentage of virgin olive oil to give some flavour and colour back to the oil.
REFINED OLIVE OIL
Refined olive oil is extracted using heat or chemical solvents to extract any remaining oil from the olive pomace. The refining process removes colour, odour, and flavour. Refined olive oils also lack the natural health promoting properties in virgin oils as these are lost in the refining process.
May also be referred to as: Olive pomace oil, blended refined oil, pure olive oil.
LAMPANTE OLIVE OIL
The term 'lampante' comes from the Italian word for lamp – historically, this oil would have been used as fuel for lamps. With a high level of acidity, this oil is of the lowest quality and the sale for consumption is forbidden, with it usually being made from contaminated, overripe, or damaged olives. Lampante olive oil is mainly used in industrial applications.
POMACE
Pomace is a by-product of olive oil production. This is the solid paste left over in the centrifuge. The pomace is used to make olive pomace oil, refined olive pomace oil and crude olive pomace oil.
MONOVARIETAL
Monovarietal olive oil refers to an olive oil produced from just one variety of olive, in contrast to other oils which are made up of a variety of cultivars.
POLYPHENOLS
Polyphenols are a group of natural antioxidants found in virgin olive oils which gives it a unique flavour and colour. Polyphenol content varies from oil to oil, depending on olive variety, ripeness, and time of harvest. Fresh unfiltered oil (such as our Olio Nuovo), contains the highest levels of Polyphenols.
These antioxidants reduce over time, so for the fullest health benefits, use fresh oil liberally and often.
COLD PRESSED
A marketing term commonly used to describe Extra Virgin Olive oil which by nature is always 'cold pressed'. This buzzword is often used on labels and websites. EU regulations state that to be extra virgin, the oil must be extracted at a temperature below 27°C.
UNFILTERED
Unfiltered extra virgin olive oil retains all natural sediments and particles present in the oil after extraction from the olives. It is bottled directly and will often be cloudy in appearance. Unfiltered extra virgin olive oil will have a shorter shelf life and a unique, intense taste.
FILTERED                         
Filtered olive oil refers to a type of olive oil that has undergone a filtration process to remove any remaining solid particles or impurities – this is done primarily for cosmetic reasons. The filtering process does not change the chemical composition. The removal of potential impurities also extends the shelf life of EVOO.