Nestled in the heart of the Italian peninsula, east of Tuscany and west of Le Marche, sits Umbria. A region enclosed by hills and mountains with a rich and varied history and local people who value old world traditions.
It also produces some of the best extra virgin olive oil in Italy.
The olives from Umbrian groves are highly sought after and valuable because they famously produce such high-quality oil. In fact, Umbrian extra virgin olive oil is often referred to as "green gold" because this quality means the groves can fetch a higher price for the olives.

Medicinal
extra virgin olive oil
Umbrian oils tend to have an intense fruity flavour with a great deal of body and the high content of polyphenols gives a good balance of bitter and spicy. With the focus on the provenance the oils are often blends of the characteristic cultivars of the region.
This extra virgin olive oil is a blend of varieties including Frantoio and Leccino, with the prevalent cultivar being Moraiolo. The Moraiolo olive trees grow well in Umbria as they thrive in the mountainous Appennino conditions. This cultivar is particularly valued by olive farmers because it has a high oil yield and is also said to have medicinal properties.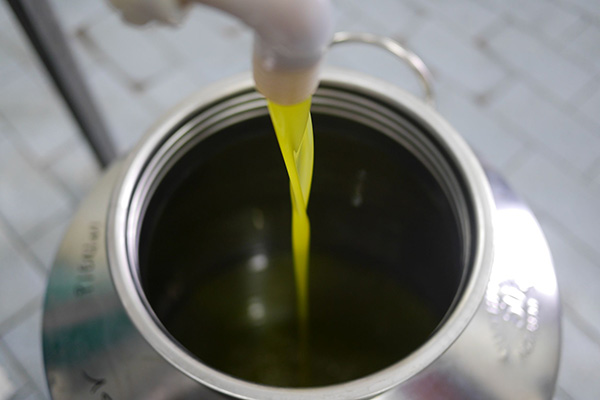 Taste your
green gold
Torta al Testo is the traditional Umbrian flatbread literally meaning "cake of the tile" referring to the hot stone it was cooked on in ancient Roman times which was called a "testo".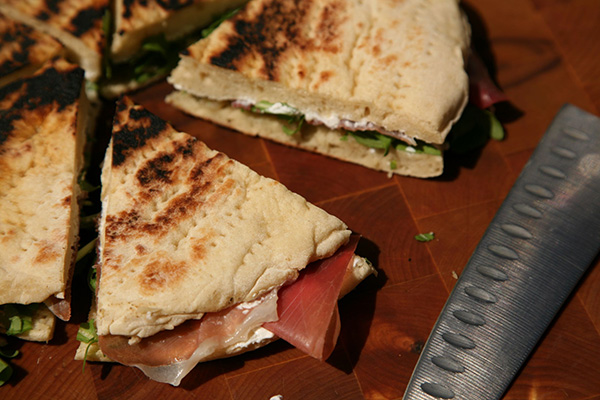 Flour – 500g/18oz
Instant dry yeast – 9g/0.3oz
Salt – 1 level tsp
Warm water – 350ml/12 fl oz
Dritta extra virgin olive oil - 1 Tbsp
Mix all the ingredients together and kneed for 10 minutes. Set aside to rise for an hour. Roll into a 1cm thick disk and cook in a hot pan for a few minutes each side. Cut horizontally and fill with whatever you desire - traditionally sausage and wild herbs, here we have use proscutto, stracchino and rocket.