Extra virgin olive oil (EVOO) is loved for both its versatility and remarkable health benefits. Despite it being a staple in most kitchens, there is still a misconception suggesting that olive oil is not suitable for cooking. As a result of this, many home cooks have hesitated to use EVOO in their cooking for decades. However, newer research proves that extra virgin olive oil is the ideal choice.
Extra virgin olive oil has been proven to be a safe and stable option for cooking, including roasting, frying and baking.
One of the main concerns with cooking oils is the production of undesirable polar compounds, such as aldehydes. These compounds, which are produced when an oil is heated, have been associated with various health risks, including Alzheimer's disease and cancer. Extra virgin olive oil produces minimal quantities of these harmful compounds when heated.
The secret to EVOO's stability lies in its high polyphenol content. These natural antioxidants act as a protective shield, preventing the oil from breaking down and releasing harmful free radicals when exposed to high heat. Even at temperatures exceeding 400 degrees Fahrenheit, extra virgin olive oil retains a significant portion of its valuable antioxidants, ensuring a healthier cooking experience.
To understand why EVOO is suitable for cooking, it's important to understand 'smoke points' – a term you may have come across. The smoke point is the temperature at which a fat, whether plant or animal-derived, begins to break down and omit smoke. While the smoke point varies from oil to oil, most cooking oils have smoke points well above typical home cooking temperatures. One of the main reasons consumers shy away from cooking with olive oil is the incorrect belief that it has a low smoke point.
EVOO's smoke point, while lower than that of refined oils such as canola or grapeseed oil, ranges from 190-220°C (374-428 Fahrenheit), which is more than adequate for most home cooking requirements.
"Olive oil is ideal for frying. In proper temperature conditions, without over-heating, it undergoes no substantial structural change and keeps its nutritional value better than other oils, not only because of the antioxidants but also due to its high levels of oleic acid." - International Olive Council
Refined cooking oils are still favored by many due to their significantly higher smoke point. However, the refining process exposes these oils to chemicals and intense heat, resulting in a loss of their natural flavors and essential components. What's left is an oil with a neutral flavour that may contain elevated levels of trans-fats and chemical residues from the processing. These oils have been stripped of all their natural vitamins and so do not offer much nutritional value.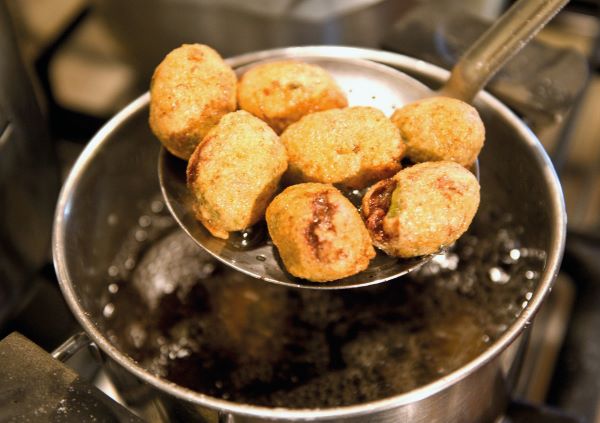 Deep frying, which requires high temperatures, typically occurs between 350-375 degrees Fahrenheit – well within the safe range for EVOO.
In the Mediterranean, where extra virgin olive oil has been at the heart of cooking for centuries, this information is nothing new. The Mediterranean diet continues to hold the title of the healthiest diet (for the sixth year in a row!) for good reason, and EVOO plays a central role. From fried delicacies like Sicilian Arancini and Ventitian Polpette to baked goods such as Foccacia and Ciabatta, Extra virgin olive oil is the top choice for Italians and other nationalities across the mediterranean region.
Incorporating fresh extra virgin olive oil into your cooking not only enhances flavour but promotes a balanced, healthy diet. EVOO has been unfairly overshadowed by misconceptions and at Nudo we encourage embracing extra virgin olive oil in all your culinary endeavours.
Take a look at our Italian recipes for inspiration in the kitchen.