Our son Toby is 26 and profoundly autistic. He cannot talk and has learning difficulties. This does not sound like an auspicious start in life for a young person but Toby has a great life living in the community and taking part in so much that sadly is all too often denied to people in his position.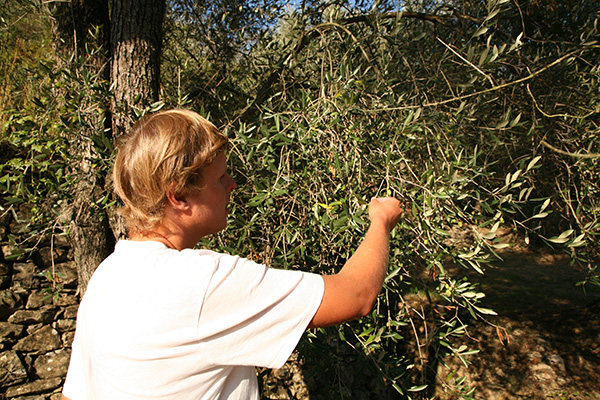 When Toby left TreeHouse School in London six years ago and with the support of our Local Council who fund his carers' wages through his 'personal budget care package' we had the opportunity of designing a lifestyle for Toby based on what he likes to do, his strengths and passions.
Too often a young person like Toby is sentenced to a life in a residential home, probably miles away from their family and the community where they grew up and with limited opportunity to ever be a part of a community or to have opportunities or experiences an able peer would take for granted, let alone take part in a company like Nudo.
At the very heart of what we wanted for Toby was for him to do something real when he left school not just to do made up things to pass the time as so many people in his position end up doing. We wanted him to be a central part of something sustainable, to contribute and be productive and most importantly to be in the company of people who will support and value him for being who he is.
Toby has always relished fresh food and from an early age his favourite meals included pasta, pesto, lemons, olives and olive oil. He is an outdoor person and whilst he enjoys life in London he has always loved gardening and working with animals which was going to be hard to sustain as a lifestyle choice for Toby unless he also had access to the countryside. This seemed to be the starting point for thinking about what his life should be.
It was Toby's absolute passion for olives and olive oil and to be honest most Italian food that got us thinking about the possibility of an Italian olive grove with an olive oil business in the UK. Living close to London's Borough Market and seeing the growing interest in healthy eating and the rise of the small producer we decided to put all our eggs in one basket to enable Toby to become an olive farmer.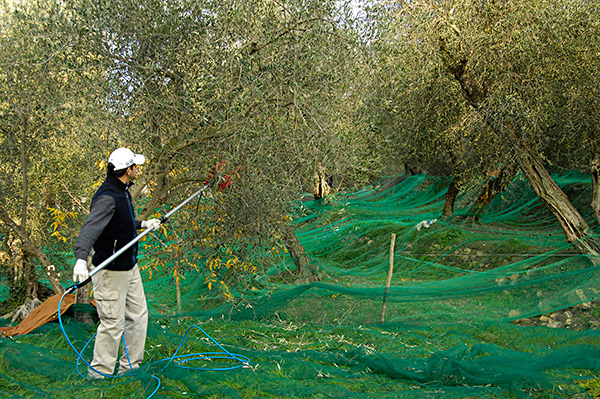 Bestagno's first harvest 2007
We down sized our family home in London and set about finding an Italian olive grove eventually settling in a small backwater in the small coastal region of Liguria. It was our early research that led us to meet up with Jason and Cathy the Founders of Nudo at their groves called Rosalio in Le Marche. Over the coming years Jason and Cathy gave us so much advice about pruning our trees, pressing our olives and were hugely generous with all sorts of invaluable information we soon became good friends and in 2014 just as we were starting to make a commercially viable amount of oil they asked us to join the team at Nudo and we were delighted to accept.
Any parents with a youngster like Toby agonize about their child's future and what their life will be after school.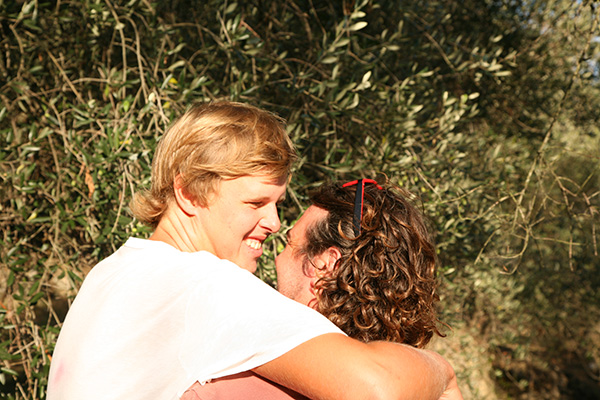 Thanks to the changes in government policy young people like Toby can now be supported to live their lives in the community taking part in things they like to do and everyday things an able peer group enjoy and don't think twice about. Toby now splits his time between working in the grove in Italy and being involved with Nudo at its offices in Borough Market in London. At all times he is supported by one of his carers so he lives in the real world doing something he loves and contributing to something that we are building for his future.
Sharing this with you we hope will continue to break down the barriers people like Toby have in simply living their lives and also to show how important the government's policy of closing the old style residential homes is, just as long as they use that funding to enable people to live supported lives in their own homes and communities. Importantly there is not a 'one model fits all structure' and we know that not all parents can organize their lives around their youngster. Government and society should not look at supported living for people like Toby as simply a cheaper option. We passionately believe that it is the right and moral option and one that makes a stronger and better society for us all.