The Great Taste is the world's largest and most trusted food and drink awards, held annually with 13 thousand entries from over 100 countries.
Last year, Nudo brought home two awards for our flavoured olive oils. This year we entered extra virgin olive oil and brought home another two awards: one for our premium extra virgin olive oil available in our shop, and the other for our adoption program grove, Bestagno.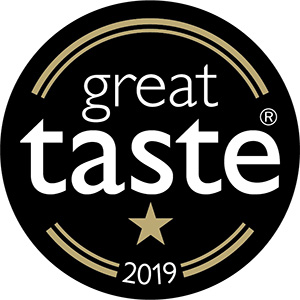 The Great Taste Awards are widely acknowledged as the most respected food accreditation for artisan food producers, judged by more than 500 of the most demanding palates, from food critics to chefs, producers to journalists. It is not only a badge of honour for us the producer, but also a great indicator for you the consumer: the clear and unmistakable black & gold Great Taste label is a clear signpost to a wonderful tasting product and a guarantee of a rigorous and independent judging process. It's all about taste.
---
Do you want to learn how to taste extra virgin olive oil like the experts do? Read here what we learnt from Tiziano, owner of Aleandri grove and professional extra virgin olive oil taster.
---
We are very proud of both our oils which took home an award and happy to have them recognised by others as the delicious and high quality oils they are. Here is a bit more about both the award winning Bestagno grove and oil, and the award-winning premium shop oil.
BESTAGNO
,
our award winning grove
Bestagno is Nudo's own grove in the olive tree adoption program run by director Katharine Doré and her son Toby. Bestagno grows Taggiasca olive trees, the characteristic cultivar of Liguria. Taggiasca olives produces a famous extra virgin olive oil which is loved for its delicate taste with light floral and herb notes.
Here's what the judges had to say:
Lovely grassy notes on the nose
A smooth and aromatic oil with delicate peppery notes on the finish
Distinct grassy, herbaceous aroma, smooth and buttery mouthfeel
This is a versatile oil as it isn't overpoweringly peppery
This award-winning oil is exclusive to those in our olive tree adoption program who are a parent of a tree on Bestagno grove. Join this lucky group and adopt an olive tree on Bestagno to receive the limited quantity special oil from your own piece of the grove. Adopt your Bestagno Tree >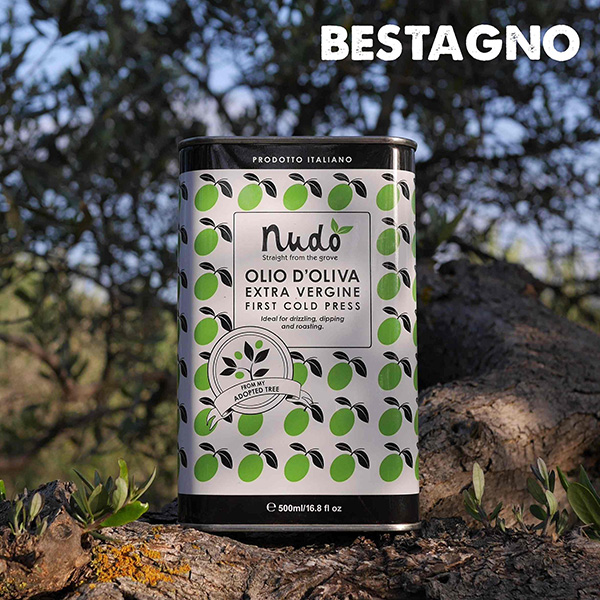 About Bestagno olive grove
In Liguria the olives trees are grown in steep valleys on across terraces built with drystone walls often centuries ago to help cultivation of the trees. Unfortunately, many of the old terraces in Liguria are collapsing due to the grove abandonment or intensive irrigation and grass burn off which destabilises the land. This is something that Katharine and Toby are working on at Bestagno: they are bringing the once abandoned Bestagno grove back to life by restoring the collapsing terraces and nurturing the tree into production.
To try the award winning Taggiasca oil and help support bringing the grove back to life, adopt an olive tree on Bestagno. You will enjoy updates about the grove and your tree and receive deliveries of the award-winning oil straight to your door, straight from the grove.
To celebrate the ward, use code BESTAGNO at checkout and we will give you 10% off your first year of deliveries of a Bestagno ongoing olive tree adoption.
PREMIUM NUDO EVOO
, our award-winning kitchen staple
This extra virgin olive oil is from 100% Italian olives harvested on sustainable groves in Le Marche. It is made to be a kitchen staple of premium quality, a blended oil of cultivars characteristic of the Le Marche area, creating an oil that is well-rounded with the extra virgin qualities.
Here's what the judges had to say:
A vibrant grassy taste and a silky smooth texture in the mouth, this olive oil has a lovely long finish with lots of heat at the end
A very light fresh cut grassiness on the nose
A slight butteriness of flavour and a creamy mouthfeel
Light and fresh with a sunny length of flavour and an enjoying peppery heat on the finish
A lot of grass on the nose and a thick texture which coats the glass wonderfully
This extra virgin olive oil is available fresh in our shop year-round in a small and large tin, designed for your everyday premium oil. Shop award winning oil now >
About Nudo extra virgin olive oil
We have been working with our expert olive miller Corrado for more than 10 years. He helps us source the olives for this oil from local groves in the Le Marche area where his mill is. All our oils are made with 100% Italian olives and we support small-scale olive farming and sustainable practices. To learn a more about extra virgin olive oil, you can read more here.