The olive cultivar 'Leccino' has its roots in picturesque Tuscany and is one of Italy's oldest olive varieties known to be used in oil production, with sources dating back to the Middle Ages. This variety produces an oil with a delicate flavour and this year's Monovarietal extra virgin olive oil from Nudo Adopt is a perfect example of this well-loved Italian variety.
We have sourced this oil from family-run groves nestled in and around Vasta, a scenic coastal town in southern Abruzzo. This region lies to the east of Rome and is bordered by the Adriatic coast. Abruzzo is known as Italy's saffron capital, famous also for its liquorice & abundance of wildlife.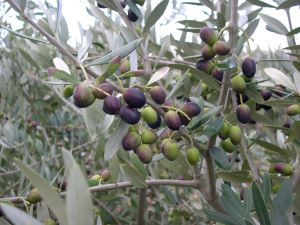 The Leccino variety has bright and thick foliage which creates a dense canopy. It is favoured by farmers for many reasons including its tolerance of low temperatures and adaptability to different conditions. Most notably, the variety has gained popularity across Italy for its resistance to the devastating Xyella Fastidiosa, a blight that has plagued Italian agriculture since its arrival in the country in 2008.
While this pathogen poses no threat to human health, it is known to wreak havoc on 650 different species of plant. Xyella attacks the water system of the plant, disrupting the flow of water and nutrients which in turn leads to scorched leaves and eventually kills the plant.
There is little that can be done to manage Xyella, as it is transmitted from plant to plant by sap-feeding insects. There is currently no known cure, however, funded research is ongoing. Many farmers have turned to cultivating resistant varieties, such as Leccino.
The Leccino cultivar, with its purple-green olives, produces a delicate-tasting and light oil. Our Monovarietal extra virgin olive oil delivers a smooth and buttery texture, along with a fruity aroma and subtle sweetness. It has a well-balanced profile and boasts high levels of oleic acid.
Best used to complement simple, light dishes and enjoyed raw.