This year's Monovarietal extra virgin olive oil comes from the Dritta olive variety which is a typical cultivar of the Abruzzo region. The specific areas of origin of Dritta, and where we sourced these olives, are the villages of Moscufo and Loreto Aprutino in the province of Pescara. Moscufo is particularly special as it is, as our miller Corradini says, "olivetato". It is the most "olivey" city of Italy as it has the highest number of olive groves for its area than anywhere else in the country.
Monovarietal extra virgin olive oil is oil which is pressed from one single olive variety, or cultivar. Each olive variety has different characteristics, so as this is unblended it has a well defined flavour specific to Dritta.
The Dritta olive is one of three DOP varieties produced in the Aprutino Pescarese area. The varieties are chosen for their unique characteristics and their representation of the area. Dritta olives are an essential part of this and the DOP is a warranty of their top quality and regional origin.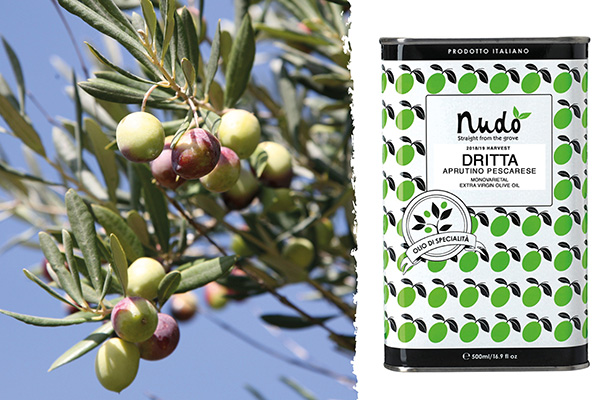 The picturesque Moscufo village where these olives are sources.
Moscufo is "olivetato" as our oil miller Corradini says: it is the most "olivey" city of Italy as it has the highest number of olive groves for its area than anywhere else in the country.
The

Dritta

Cultivar

Extra Virgin Olive Oil

Italy's 2018/19 olive harvest in general brought quite low quantities due to weather conditions, but in this area production was abundant and the quality was good. Dritta olives are usually harvested quite early in the picking season, so luckily they missed part of the bad weather affecting other groves and cultivars in the area.

The Dritta extra virgin olive oil has medium flavour characteristics with a good content of polyphenols. The taste is medium fruity and there are strong hints of green almond with a touch of grass and artichoke leaf, and the polyphenols make it very balanced with a little spice and a little bitterness.
Taste
Your

Dritta

Oil

The coastal region of Pescara is famous for its fresh seafood, so the Dritta olive naturally is very well suited to seafood dishes. Here is a recipe idea from the olive farmers of the Aprutimo Pescarese area for a simple way to enjoy your oil with your favourite fish or seafood this summer.
Your favourite fish or seafood
Dritta extra virgin olive oil
A squeeze of lemon
Chopped fresh parsley
Cropped garlic
Salt and pepper
Clean your fish or seafood and marinate for about an hour with the below ingredients. Cook by grilling both sides, and serve hot with a drizzle of your Dritta oil and a sprinkling of parsley.
Buon Appetitito!