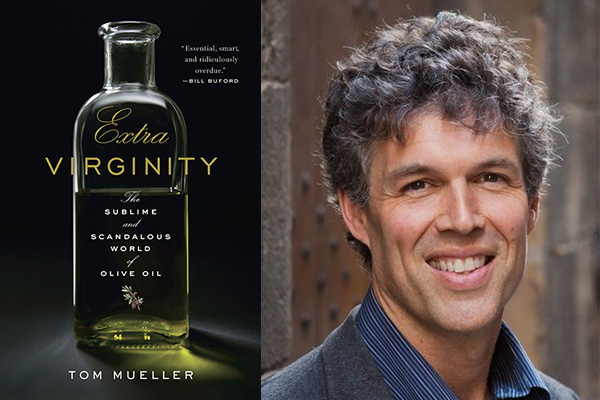 Tom Mueller is an investigative journalist. The only thing he loves more than tasting delicious food is sniffing out a great story. At his home in Liguria, these two passions came together for his book on olive oil. Liguria is home to some large, powerful olive oil producers who are often accused of mislabelling 'normal olive oil' as 'extra virgin olive oil', or imported olive oil as 'Italian'.
I've spoken myself to Ligurian olive growers who openly admit to selling their olives to such companies, to be blended with imported oil, but still sold as 'Ligurian'. Mueller's book is full of such stories. And not just from Liguria. He travels the world exposing the widespread fraud in the industry and discovering how it threatens artisan olive oil producers like Nudo. It's a shocking book!
It describes how skilled oil fraudsters are flooding the market with, cheap, fake extra virgin oils, reaping profits and undercutting honest producers - whilst the authorities in Italy, the US and elsewhere turn a blind eye.
We caught up with Tom to ask him some more about his book and whether he can offer practical advice to consumers about how to avoid being fooled.
NUDO: What most shocked you in your investigation of the olive oil industry?
TOM: Not the criminals – they were merely the foot soldiers of a much bigger and uglier picture. What really shocked me were the multinational companies who knowingly deal with the criminals, and the governments who wink at fraud without acting against it, lest they interfere with free (and corrupt) trade. The current absurd situation of "extra virgin" olive oil costing €1.70 in the bulk market in Jaén is an open joke, yet no official agency seems willing to intervene.
NUDO: In American supermarkets, it is possible to buy '100% Italian, extra virgin olive oil, first cold press' for under $10 per litre. Can this possibly be a good buy?
TOM: Again, it depends on the source, though it's expensive to ship olive oil to the US, and the retailer must have a mark-up. It's safe to say that most extra virgin olive oils sold at $10 per litre are wrongly labeled, and some are downright frauds.
NUDO: Why is it hard for small scale olive oil producers to make a living?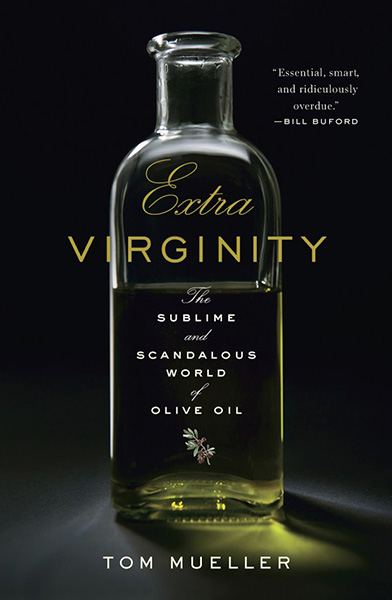 TOM: It's not so much a matter of scale as of quality. It's very expensive to produce true extra virgin olive oil, cheap to make poor oil. But many poor oils are sold under the extra virgin label. So 2 completely different products, one valuable and the other low-quality, are being sold under the identical label. Honest producers are victims of unfair competition.
NUDO: I'm often asked 'what is so bad about importing oil from Spain to Italy and calling it "Italian"? Aren't Spanish olives as good as Italian ones?' What would you say to this question?
TOM: If the label leads the consumer to believe they are buying Italian oil, yet the oil is made in Spain, this is misleading, and therefore wrong. It's purely a matter of truth in labelling.
NUDO: Apart from publishing books on the subject, how best to educate consumers about good and bad olive oil? I often hear unconfident consumers worry that they won't even recognise a good olive oil when they taste one.
TOM: They need to taste more olive oil. And taste cheap supermarket oils side by side with fine oils. To do this, one needs a competent guide – a reputable shopkeeper who knows his or her oils, for example.
NUDO: What is your best advice for consumers faced with a shelf full of olive oils of varying provenance and varying price? How can they know what the label means and who to trust?
TOM: The label must say "extra virgin." It ideally should tell you the date of harvest, and the specific spot on the globe (typically the estate) where the oil was produced – as well as by whom. Dark glass bottles or tins, which shield the oil from light, are also important.
NUDO: You say in the book that €60 billion of counterfeit Italian foods are sold annually. Is there something unique to Italy about this?
TOM: Merely that Italian food is so superb, and deservedly famous – fraud occurs when an item has inherent value.
Tom's book Extra Virginity: the sublime and scandalous world of olive oil' is available on Amazon.