Tiziano is the olive farmer from Aleandri olive grove in our adopt an olive tree program. Located near Offida in the region of Le Marche, Aleandri looks over rolling hills of vineyards dotted with olive trees. The area is now most famous for it's grapes and wine, but historically it was one of the main sources of extra virgin olive oil to Rome.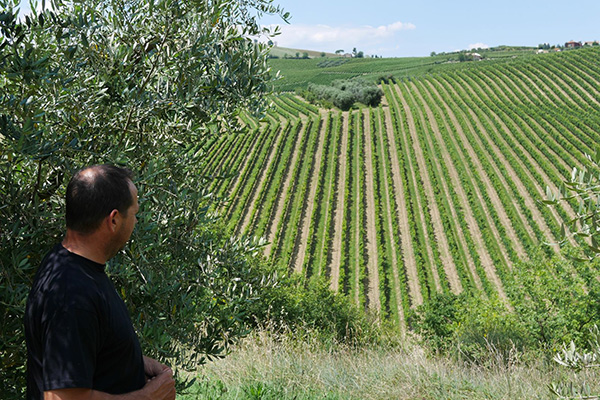 Tiziano and the view out to the vineyards from his grove, Aleandri
Tiziano is passionate about his authentic olive farming methods: he is very connected to the landscape and cycles, feels strongly about his organic practices, and is a wild source of knowledge of all things olive oil including being a professional extra virgin olive oil taster.
Aleandri olive grove was abandoned before Tiziano and his father took it on; the trees had no foliage and were in dire need of some TLC to produce olives again. But Tiziano is a pruning champion having won the famous golden secateurs as the national pruning champion at the Campionato Nazionale di Potatura dell'olivo. Used his expert skills to brought the trees back to life and restored land the beautiful fruitful olive grove it is today.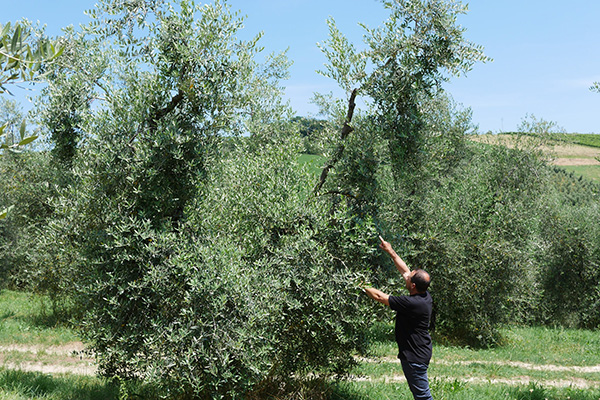 Tiziano explaining his pruning technique to us.
Watch here to hear more from Tiziano on the Le Marche region and how he rejuvenated his abandoned olive grove in Le Marche, Italy.